Nestled in the foothills of the Blue Ridge Mountains, Seneca reflects the generous hospitality of the south and is nestled in the upper corner of South Carolina. Since it's founding in 1873, Seneca has always adapted to the ever-changing pace of life and has always strived to provide all of it's businesses, residents and visitors with that friendly southern charm the south is so well known for. Seneca saw significant growth with the construction of Lake Hartwell in 1963, Lake Keowee in 1971, and Lake Jocassee in 1974. Seneca is the most desirable area in South Carolina and one of the best in the nation if you're a retiree looking for a tax-friendly city with amenities much sought after by seniors.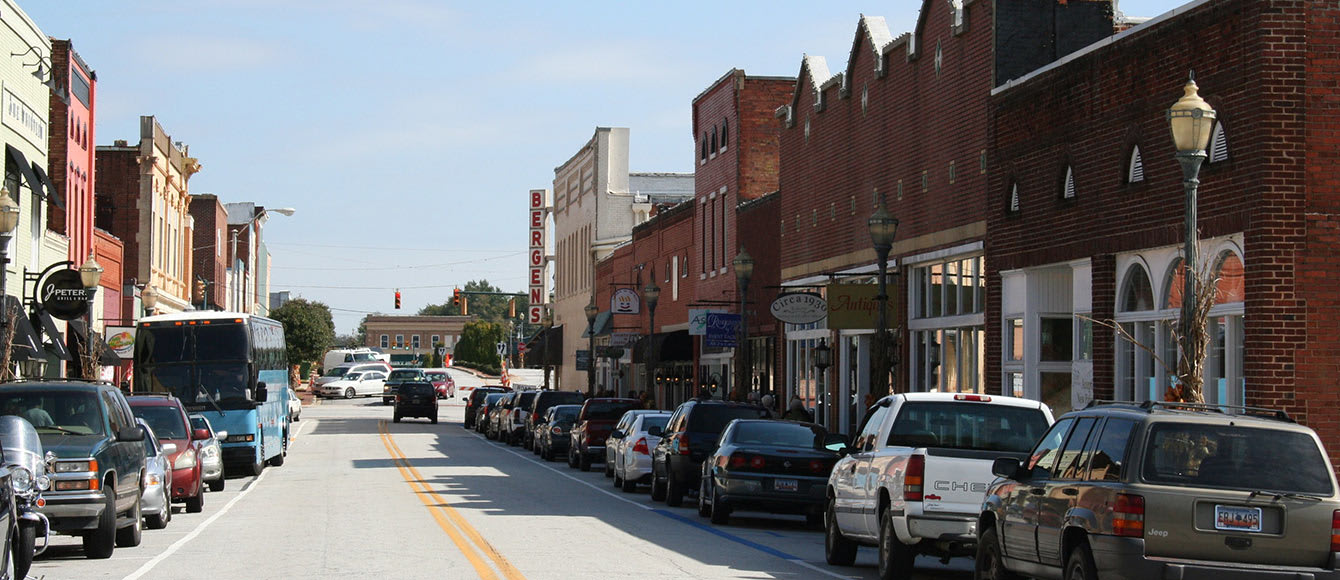 Notable historic sites in Seneca include The Seneca Historic Districts, located south of the railroad tracks. This district consists of a number of homes and churches built in the late nineteenth and twentieth centuries with unique architectural styles popular in their prospective periods. Another popular site is Ram Cat Alley Historic District. This is a commercial district built in the 1880's to 1930's. Many of these buildings have been renovated and are now prosperous restaurants, shops and professional offices. The name of the street was made famous for cats that gathered around a meat market during it's inception. The Newry Historic District is a historic textile mill village near Seneca. Other historic locations include the Alexander-Hill House, Faith Cabin Library at Seneca Junior College, McPhail Angus Farm and the Old Pickens Presbyterian Church.
Notable restaurants in Seneca include Paesano's Italian Restaurant, The Lighthouse Restaurant and Event Center, Sold Grill and Sushi Bar, Beyond the Bull, Lake Keowee Cabana, Tiki Hut, Traditions on the Lake, and 313 Cafe.
Nearby Schools and Higher Education
Seneca is served by the School District of Oconee County, which operates 16 elementary schools, five middle schools, four high schools, and a state-of-the-art career and technology center. Additionally, there are a number of private school options available within the region. While there are no colleges or universities in Seneca, residents may easily access the institutions in nearby Clemson, including Clemson University, Southern Wesleyan University, and Clemson College.
Approximate Distance to:
Anderson: 25.5 Miles
Greenville: 37.5 Miles
Greenville-Spartanburg International Airport: 50.5 Miles
Hospitals:
Oconee Memorial Hospital: 2 Miles
Greenville Hospital: 36 Miles
Major Highway:
Seneca Real Estate Listings
This information is deemed reliable, but not guaranteed. Neither, the Western Upstate Association of REALTORS®, Inc. or Western Upstate Multiple Listing Service of South Carolina, Inc., nor the listing broker, nor their agents or subagents are responsible for the accuracy of the information. The buyer is responsible for verifying all information. This information is provided by the Western Upstate Association of REALTORS®, Inc. and Western Upstate Multiple Listing Service of South Carolina, Inc. for use by its members and is not intended for the use for any other purpose. Updated: 26th May, 2022 1:53 PM (UTC)